Reciprocal borrowing agreement
The Rural Municipality of Montcalm and the South Central Regional Library (SCRL) have a reciprocal borrowing agreement allowing residents from both regions to borrow from each other's libraries. Montcalm residents must show their Bibliothèque Montcalm library card when borrowing from a SCRL in Altona, Winkler or Morden. Library cards can be obtained free of charge from the library.
Inter library loans
If we do not have the book that you are looking for, it is possible to request it from another library using the interlibrary loan service. Once the request has been sent, the book is generally received within a week. You may also do your own search by logging on tohttp://www.fill.sitka.bclibraries.ca.
FBMB
The Fédération des bibliothèques des municipalités bilingues du Manitoba is an organization which promotes the exchange of French materials including a variety of DVDs, videocassettes, and compact disks. The items are rotated between the libraries in the FBMB every four months.
Computers
The library has ten computers with high speed internet available to the public. The computers have a variety of programs including Word, Excel, Power Point and Publisher. Copies may be printed for 20¢ per copy. There is a resource person on site to help when needed.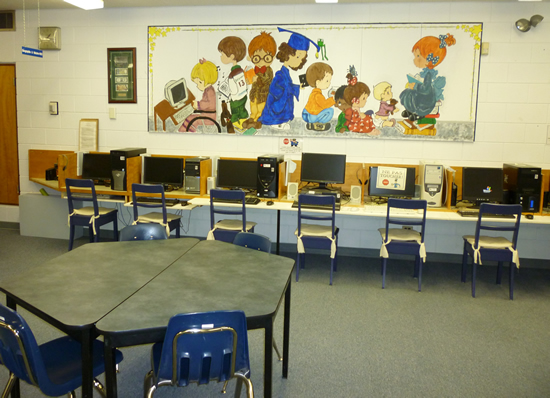 Wireless Internet
If you wish to use a laptop computer at the library, you may have access to our high speed wireless Internet. This service is available during our regular business hours.
Periodicals
The library is subscribed to several periodicals covering various subjects, providing reading entertainment for all ages.
EBSCOhost
EBSCOhost offers you free access to millions of magazine articles, articles from academic journals, and encyclopedias. To access EBCSOhost, go to https://search.ebscohost.com. You can also visit EBSCOhost from your home. Ask your library for the user name and password.
Technological Equipment and Services
We have a projector and a screen which can be rented for 10,00$ per day. We also have a shredder and a binding machine.